10 Jan. 2018
Journalist Toshikuni DOI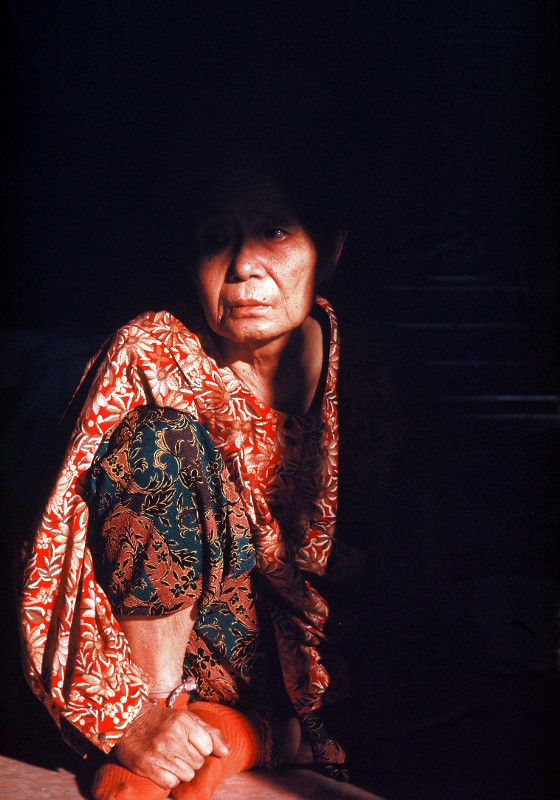 (photo: Late Kang Deok-yeong who expressed her experience in drawing pictures: by Toshikni DOI)
"As we both made agreement on 2 years ago, didn't we say that we are not going to make this as an issue again. Then why now do you say that that agreement does not resolve the comfort women problem? That's why we do not trust the country that is like Korea!"
Recently, the comfort women issue has been reported through media. It is certain that many of Japanese also thought as above. Not only citizens but also the politicians went against saying, "if Korea tries to change the agreement, the relation of Japan and Korea will be out of control" (Foreign Minister Kono Tarou). Also editorial of Asahi Newspaper January, 10th edition states that "This is difficult to understand" , "We are afraid of losing the meaning of making agreement at this moment".
However, now what we need to discuss about is, not condemning the Korean government of them not following the agreement, but finding why Korean government and their people are also saying that 'this agreement does not solve the issue'. Therefore, more than anything else, we need to listen to voice of the real comfort women.
The organization that is founded for this agreement processes ten million yen to individual former comfort women and 2 million yen to the passed away. If what the victims part has wanted is only money, they would accept this agreement. However, what would be the reason that they reject and ask strongly to demolish the agreement to the Korean government? Why are they insisting that this agreement does not show respects on victims and help their recovery of honor. These points are which Japan should ask and think about.
However, it is difficult to understand why the newspaper that I am reading (Asahi Shimbun and Tokyo shimbun) are conveying the opinions of president and Foreign Ministry officers at press conferences, but missing the voice of the former comfort women. There is no article that deals with 'Why do the victims, they go against the agreement'. If it was difficult to meet the former comfort women directly, then reporters could at least go and hear from the supporting organization representatives. I believe that ambitious correspondents who stay in Korea would have covered this issue already. However, there is no article that is released in reality. Does this mean that the editing department in Tokyo guessed the intention of the government and disregarded afterwards?
I recall the time of 23 years ago, in 1994 December, when I visited the shelter place for the former comfort women called "Nanum" in Korea and the conversation that I had with 'Halmeoni' (word for grandmother in Korean)'. The conversation was about money that was coming from 'Asia Women Foundation'. Since the reparation money was provided from the private sector, many of victims are strongly insisting that what they want is not this kind of bonus money but the apology from the Japanese government and compensation in financial form.
One 'Halmeoni' said, "why don't Japan resolve it early even though they have enough money? Do not you compensate early if you have done some faults?
Then the other Halmeoni answered,
"It does not mean that Japan does not want to give compensation money. It is because they do not want to make their fault to be remained and want to stay as the clean people."
Again, another Halmeoni said,
"Japan is trying their best to not make any fault left on their country. In the same way, we somehow want to leave our own evidence. It's like both of sides are fighting for honor." (the documentary film "Living with Memories")
2 years ago, the agreement decided that "Japan will contribute 1 billion yen to the foundation supporting the former comfort women and will cooperate with them" and confirmed that "both countries will resolve the problem in the final and irreversible manner." However, the agreement was not decided from the former comfort women side, but the governments decided it. Probably, the two countries were in a hurry to reach an "agreement" because of the strong pressure from the government of the United States which is somehow expressed, "Until when Japan and Korea are going to talk about this issue in the period of when the cooperation among us is required to deal with North Korea and China?"
However, this made agreement was such a sudden surprise to the victims. To them, the agreement might have sounded like, "Do not repeat the problem twice, let's pretend it was not a problem. This is the final money that you get to finish this issue"
Germany confronts the history of war which they were perpetrators and is symbolized by the "Holocaust". They make a monument of the past history in the capital, and convey it to future generations in textbooks. Meanwhile, in Japan there are many monument of damage history, but it is rare in history of harm. History of harassment will also be erased from historical textbooks. As Halmoni sharply pointed out, in order to " not leave the past in history" and due to the "clean citizen sickness" (without hurting honor)", they cover"negative history" with money, and say "cannot bear fate to keep apologizing to our children and grandchildren" (Prime Minister Abe and press conference immediately after the" agreement), they are encouraging to forget about it.

Germany was once a country of perpetrators to neighboring European countries, but now it is Germany that became the EU community.

Meanwhile, it is Japan that continues to be questioned from Asian neighboring countries about its "history of harm" What Japanese individuals are questioned from them is, to face the "negative history" of their country and to make decision to take over this and to imagine the pain of people whose dignity were hurt by Japan .