Toshikuni
Doi
Japanese independent journalist
A brief bio of Toshikuni Doi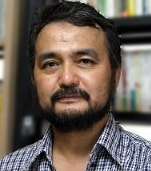 Toshikuni Doi,
born in 1953, is a Japanese independent journalist. He has published numerous articles in many first-class journals and has made scores of documentary films for news programs. He also has many books published in Japan.
Since 1985, he has visited the occupied territories many times and almost lived there for months, extensively reporting from Palestinian villages and refugee camps. Spring 2009, he completed film series, "Unheard voice – Palestine, Occupation and People," "based on his 17 years coverage in Palestine and Israel. The final part of the series, "Breaking the Silence" won three film awards, including the Waseda Journalism Award in Memory of Ishibashi Tanzan for public contribution, in Japan.
He also has covered Asia, notably atomic bomb victims in Korea who were in Hiroshima or Nagasaki in 1945, Korean women who were forced to become sex workers/slaves by the Japanese army, and street children in Thailand and Vietnam. His coverage of the Japanese government's refugee policy has been much praised. Since April 2003, he has visited Iraq under occupation four times, focusing on civilian victims of war, women's rights and prisoners' mistreatment, or torture. His documentary film, "Fallujah in April 2004" was shown in Europe and the US including the Milano Film Festival.
Email: doitoshikuni@mail.goo.ne.jp